This month's the blog carnival peers into the darkness and finds . . . .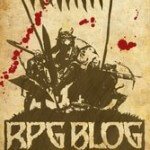 A creak heard just outside the bedroom door . . . .
A tapping on the window pane . . . .
A sound of movement under the bed . . . .
Something just went bump in the night.
How many of us remember our childhood filled with such things? How many of us then said to ourselves, "it just nothing, it's my imagination."
Now be honest, how many went running to Mom & Dad to protect them?
While this month many of the entries have centered around what is making that noise my thought is, why not use it as a way to develop a character, non-player character, or even the plot line of your story along?
If you think about it for a moment, even in our world those that we look up to for their courage, firemen, police officers, soldiers, were all kids once – did they have fears then? I'm sure many did, so why couldn't your players' characters?
When a player says their character was "afraid of the dark," as a child you need to take the time to develop that. Don't just let it stand there in the generic sense, there was a reason why they were afraid of the dark. Maybe it was due to others they grew up with, "my older brother use to douse me with ice water when I was asleep." It might have been caused by a bad experience, "there was a thunderstorm and the house was struck my lightning and we lost everything in the fire."
Or maybe, just maybe, they were afraid but it was because they couldn't see what was causing the noise in the dark.
Get the player to describe for you what the sound was like;
Was it loud or soft?
Did it happen every night?
Was it like leaves moving in the wind or more like metal grinding on metal.
How did they deal with it when they heard it?
Did they have a way of making the noise go away?
Armed with that information a dungeon becomes a bit more interesting. At some point in the trek through the depths of the unknown you can add to your description something that would trigger the memory of that childhood fear – one that maybe the adult isn't fully over (if the player is willing to play along). You've now tapped something that makes the adventure more memorable for everyone, and just maybe given the needed push to get the others to think about what they can add to their own character's history to help develop them and add to the campaign.
You can also take this same information and use it to build an adventure around the fear and it's eventual defeat.
"I remember that sound from my childhood. It always came on the night of the full moon. It sounded like a dog panting in my room, but we didn't have one. Then there was the loud crashing sound that followed, like someone had slammed shut a window."
Looking at the above you can see the obvious, we can play off a werewolf theme for an adventure.
Maybe a town is being terrorized and the howling in the distance on the night of the full moon triggers the memory.
A group of kids in the town square are heard describing the same thing the character remembers from their own childhood.
Maybe the character receives a message from home, "Son, you need to come home, NOW! Your father has a condition and you might have it as well. I only wish we had known when you were younger."
As you can see, a small item like a fear of something going bump in the night can give you all kinds of source material to work from.
A few words of warning:
Don't over do it. You want these items to add flavor to the campaign but you may not want them to be the main theme. Of course if your players would like that then by all means do so!
Don't focus on just one character. With any luck you'll have a couple of players willing to work with you on this and you can spread the "love" around. You need to be sure to do that, you don't want folks feeling left out.
Switch it up. If you do come back to a character more than once, change what's happening. As you saw above I same up with three ideas, two were definitely related but they weren't all the same – keep that in mind so your players don't begin to anticipate what you're going to throw at them.
I hope that gives you a few things to think about, and hopefully some ideas to put those childhood memories and fears to work.
Now if you don't mind, I'm going to make sure the flashlight has fresh batteries in it.
May your dice roll well!